Welcome to AECOZ - Disposable paper container manufacturers

With the increasing demand in the packaging industry, there was a sudden soar in plastic packaging. Plastic menace became so severe that our soil, water, even air has particles of microplastics in them. There is a big chasm and it had to be filled fast. That is when Aecoz was conceptualized. Aiming towards sustainable food packaging, to reduce the plastic pollution that was rampant and provide an alternative with eco packaging. Aecoz Bioware disposable take away containers were set up with the intention to make the takeaway food containers, aesthetically good-looking, environmentally friendly, bio-degradable, compostable and affordable so your customers can happily enjoy your food on the go.
It's A to Z and Z to A of the eco-friendly food packaging solutions. For Nature, To Businesses. If it's eco-friendly food packaging solutions, then it has to be Aecoz.
Our aim is to put the environment first with guilt-free packaging. As part of the same goal, we stand out in offering 100% biodegradable paper with a USFDA certificate. We strive to provide the most sustainable and innovative packaging solutions to collectively reduce the negative impact of plastic on our mother earth. We make the disposable cups/bowls/containers 'only' with ITC, Century paper, and FSC certified Kraft paper. At Aecoz customers is our highest priority. We make sure that every customer's demand is met without compromising on anything. We offer a completely customizable solution with branding and beautiful presentation for all the food disposable paper products that leave a smile behind for your customers.
Our Concepts

Recyclable

We believe in environmental friendly food packaging solutions that are recyclable. It is time to give back to mother earth.

Customisable

In truest sense, customer is king. We offer customized to solution to our customers, offering any design and any colour printing.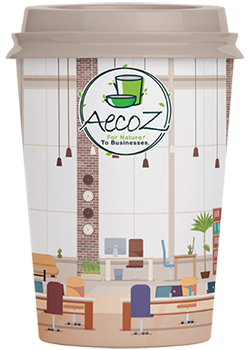 Eco - Friendly

Eco friendly food packaging is our goal and this is what we offer everyday.

Bio - Degradable

We specialize in certified 100% biodegradable papers. We are proud that we walk the talk. Our paper has CIPET biodegradable certificate. Custom Design: In truest sense, customer is king. We offer customized to solution